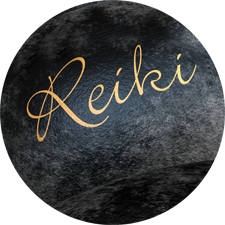 Reiki (ray-key) is form of energy healing that is spiritually guided life force energy. The energy of Reiki has a long tradition and is passed from teacher to student through a series of attunements. Once the student has been attuned to Reiki, the energies are always available for them to tap into and work with for themselves and others.
During a Reiki session, a practitioner can work with the energy in multiple ways. They can place their hands just off the body or lightly touch the body depending if this is comfortable for the person receiving the treatment. Reiki is also highly effective when it is sent long distance for those that are not available for an in person session. The person is always fully clothed and great care is taken to assure the clients comfort level.
People can experience a Reiki in different ways. Some may feel warmth flow through their body, while others may experience coolness. Some may experienced a tingling and others do not feel anything. Regardless of what is felt the energy always goes where it is most needed.
Reiki works on physical, emotional and spiritual levels. The energies create deep relaxation; to help speed healing, reduce pain, and decrease other symptoms you may be experiencing. Reiki can help restore energy balance by relieving physical and emotional effects of stress by releasing emotional blockages, accelerating natural healing and stimulating the immune system.
The following times and pricing apply:
15 minutes @ $ 30.00
30minutes @ $ 60.00
40 minutes @ $ 80.00
50 minutes @ $ 100.00
To schedule an appointment choose the link for the time slot wanted.
http://bit.ly/Reiki15Minutes
http://bit.ly/Reiki30Minutes
http://bit.ly/Reiki40Minutes
http://bit.ly/Local50Minutes
To schedule an in person session click the below link to be redirected to another page.
http://bit.ly/InPersonAppointment
Healing/Coaching Disclaimer
By participating in any of the services listed on this website, you acknowledge that I am not a licensed health care professional or psychologist. Healing/Coaching services are not a substitute, for therapy, proper medical diagnosis/treatment or medications prescribed from your Medical Practitioners. All services are complementary techniques, not replacements when therapy and/or medical attention are needed as prescribed by your doctor.