Intuitive Consultations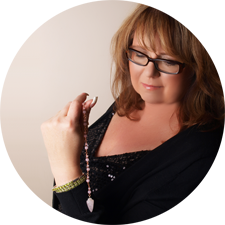 An intuitive or psychic is actually someone that is doing energy work. It differs from other energy work in that the psychic is tapping into the energy potential's that exist for a person, place, animal etc. for that moment in time. All objects hold an energy imprint and that is why a person sensitive to the energies can pick up on energy that is been there before. When a psychic is working with a client during a reading, they are reading the current energy potentials that exist for the person they are working with.The outcome can change depending on events that follow; it is like an outline of probabilities that could occur.
During a client session, I will take a minute or two and close my eyes and center myself. Generally I start the session by speaking that which I feel, sense, hear or see. During a session I may use one or many tools to bring forth information that is for the clients highest and greatest good. Some of the tools that I may uses are cards, crystals, ribbons, an object that the client has, a picture or I may write notes. All depends how I am guided at that time. During a session, a client can always feel comfortable to ask a question that may not have been covered or if clarification is required. I always work from place of love, light and ethics for the highest and greatest good of all. A psychic reading is not a substitute for medical treatment. It is a wonderful compliment to any other medical or alternative therapies.
How to Book Your Appointment
15 minutes @ $ 30.00
30 minutes @ $ 60.00
50 minutes @ $ 100.00
To schedule an appointment choose the link for the time slot wanted.
Healing/Coaching Disclaimer
By participating in any of the services listed on this website, you acknowledge that I am not a licensed health care professional or psychologist. Healing/Coaching services are not a substitute, for therapy, proper medical diagnosis/treatment or medications prescribed from your Medical Practitioners. All services are complementary techniques, not replacements when therapy and/or medical attention are needed as prescribed by your doctor.